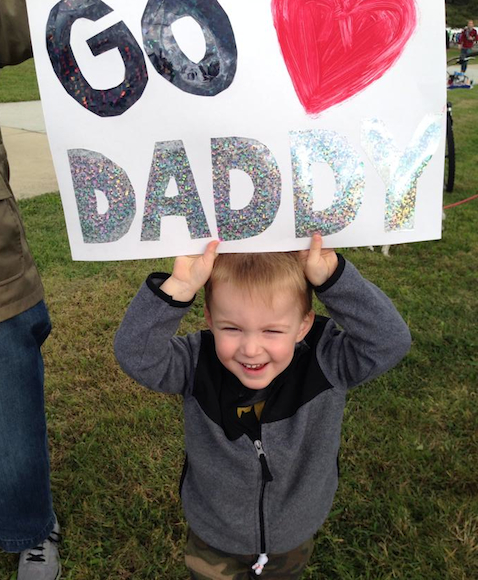 Decker and Gibson,
I ran the Baltimore Half-Marathon this past Saturday.  I did it because I made a goal to do it at the beginning of the year.  It felt great.  I have a real sense of accomplishment.  By far the best part of my run was seeing you guys at Lake Montebello.  Seeing you guys was what I needed to push forward.
The running part of the half-marathon was easier than I expected, which was nice.  The experience of the half-marathon was completely different than I thought it was going to be.
As you will know by the time you read this, I grew up in Baltimore City – in the northeast part of the City, in a neighborhood called Northwood.  Throughout my childhood, I could hear the cheers from Memorial Stadium every time there was an Orioles home game.  For a time, it was a lovely little neighborhood where kids played and Moms and Dads hollered it was dinnertime.  There were barbeques and neighborhood crab feasts.  It was a quick ride downtown or to Roland Park or to Waverly.  Northwood shopping center had a Hechingers and a People's Video, not a McDonalds.  You could easily walk there.
But that's not how I remember it.
I remember a house that was broken into three or four times.  Including once when I was sleeping upstairs.  I remember when a young teenager stole a car and drove it around the neighborhood, one time nearly hitting me.  I remember being afraid to run to my friends house one street over at night.  I remember the Baltimore Police helicopter.  Often.  I remember BPD asking if we'd seen this description or that.  I remember not feeling safe.  I remember fear.
When I went to pick up my race packet last Friday, I even said to the volunteer that I was excited to run through the parts of Baltimore I grew up in and feel safe.  I wanted to look.  I thought it would be like a passing motorist who doesn't just get to rubberneck, but actually gets to get out, walk around, and see some wreckage.
I remember stories of friends getting held up in Patterson Park.  I laughed when people said that's where they were going to go live.
I remember people getting shot around Morgan State.  I was stunned when I learned that people came from far and wide to go to college there.
Whenever anyone said anything about living in Baltimore City, I used to laugh.  "Yep, you'll see.  It's a fucking hellhole of crime and fear and drugs.  Good luck with your new life of terror."  When The Wire was produced I thought, "That's the Baltimore I know."
And when I moved to the County in 8th grade, I was glad to be gone.  I lived in Mount Vernon briefly during law school, but, other than that, I haven't gone back to living in the City.  It's been a longtime since I've even worked in the City.
So when I ran through Baltimore City and saw vibrancy, joy, and hope, I was a little taken aback.  I have seldom experienced as much positivity in a such a short period of time.  There were so many there to help.
But it wasn't just the race.  Everywhere I looked people were out playing kickball games, beautifying their homes, strolling their children.  What I remembered as slums were somehow an eclectic mix of life.  I saw black and white together.  I even saw rich and poor, side-by-side, cohabitating.  Lake Montebello was beautiful, not some place by Herring Run where that guy got shot last month.
And then, when I ran by the dilapidated, I didn't see slums or shit or a City deserted.  I saw opportunity.  I saw – I see – a city with tremendous possibility.
And I remembered the most important lesson … things are what you see them as.  Anais Nin puts it better, "We don't see things as they are, we see things as we are."
If you see possibility, there is possibility.  If you see shit, it's shit.
I think there's an additional piece to this also, one I learned this weekend.  If you see shit, get out of the way and go somewhere you see possibility.  I saw shit for a long time and a bunch of people went and fixed up a city while I was scoffing.  Bet I could have felt a lot better and made quite a bit more money had I joined the party instead of hating from afar.
But that's life.  You live and you learn.
I understand that it's not a binary world.  It wasn't all dark before, and it's not all rose colored now.  Baltimore still has deep, deep problems.  The recent leadership has been horrendous.
Most problematic, it's a tale of two cities, divided largely on economic lines.  I did more of my running through bettered Baltimore, not still broken Baltimore.
But I'm not here to offer solutions or even identify problems.  For right now, I make my little dent in the world by being a lawyer and by doing my best to raise up you two little gems.  I make my dent locally by being a workers' compensation lawyer in Baltimore.  Small dent maybe, but I'm good with it for now.
Thanks again for coming to support me!  It meant the world!
Love,
Dad